Welcome to ibridlington.net community links for 2019. These web pages are brought to you in conjunction with: bridjobs.com celebrating 14 years online in the Summer of 2019. Advertise here today on this your very own community page, for only £2 per week (or £100 per year) for a business or group link. If you have no web site to link to, we can build you a web page for just £50 plus a further smaller charge for each additional page. Your web site will then be promoted here for £2 per week (or £100 per year). All our community sites are very highly placed with the search engine Google therefore your business / organisation will get maximum exposure on the internet, if linked to us via this area. All funds raised from advert revenue generated, will go back towards further development of the original East Yorkshire Jobs site, the most popular recruitment option for this region, helping local people get back into work since 2005.
To enquire further you can call Token House Domains on 0800 6125350 seven days a week, or email: office@tokenhouse.net
ACCOMMODATION BRIDLINGTON - ADMIRALS COTTAGE
BRIDLINGTON RENAISSANCE PARTNERSHIP
BRIDLINGTON SPA - Seaside Variety Since 1907 !
BRIDLINGTON BEACH - The Birthplace For UK Surfing 1890 - Click To Read More
BRIDNET - HELP US NET THOSE RESPONSIBLE FOR CRIME
HOCKNEY - BRIDLINGTON'S MOST FAMOUS RESIDENT DAVID HOCKNEY
HOLIDAY COTTAGE CLOSE TO BRIDLINGTON HARBOUR
OVEN CLEANING SERVICES - YORKSHIRE
PURE WATER WINDOW CLEANING SERVICES - YORKSHIRE
PROMENADES.CO.UK - ANNOUNCEMENT
CLICK HERE TO BUY HARDBACK BOOKS & PAPERBACK BOOKS DISCOUNTED WITH FREE DELIVERY
TICKET GIFT VOUCHER CARDS VALID FOR ALL WEST END SHOWS!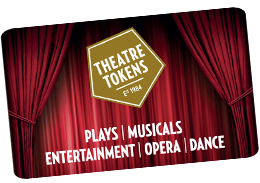 .....this is how the new 2017 gift card looks!
NATIONAL THEATRE TOKENS - CLICK TO BUY ONLINE :
NATIONAL BOOK TOKENS - CLICK TO BUY ONLINE :
Bridlington or Burlington as it used to be called, derives its name from an Angle named Bretel who settled in Old Town and called it Bretelston. The town is situated in the Eastern part of the Dickering Wapentake, now known less romantically as the Borough of East Yorkshire. The county was divided into Wapentakes in 1166 in the Danelaw, and Dickering most probably derives from the Old English words "dica-hring" meaning dyke circle, one of which was at Paddock Hill, Thwing, where a court meeting place was thought to have been.

The town used to be in two separate sections which were not joined together as they are now. The old market town, a mile inland, built around the Priory and the Bridlington Quay, which is the harbour at the mouth of the Gypsey Race, a meandering stream which winds its way through the villages and historically supplied water plus water power to many areas.

The cliffs of boulder clay and sand erode very quickly. It has been estimated that south of the harbour the cliffs receded 230 yards between 1805 and 1885, but north of the harbour they only receded 30 yards between 1771 and 1852 as the cliffs here become chalk towards Sewerby. The 20th century sea walls have prevented further erosion, but along the coast houses and roads are still disappearing into the sea, as you will see if you walk along some of the beaches to the north and south.
A long-lost letter has revealed that this Yorkshire resort, was the first place in the British Isles where someone rode a wave! Previously it was thought that this started in England in the 1920s, however now it seems the true birthplace of UK Surfing was Bridlington, September 1890. Recently, the town was a home for one of the most famous living artists in the world, David Hockney. During 2016 it received worldwide publicity all over again, as the setting for Universal's movie 'Dads Army' which was primarily filmed in the Old Town.